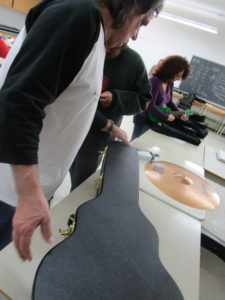 Intuitions and institutions
Our week in Attawapiskat has come to an end. We saw some walls come tumbling down and we made some strong connections. We reaffirmed our belief in the healing power of music. And we see more clearly than ever that in places as remote and marginalized as Attawapiskat, music and arts programs—while essential—are not enough.
The local music teacher, "Mr. D," was generous with his time and handed over his classroom to facilitate our program. Mr. D works with musical styles of interest to the kids—heavy metal, country and hip hop—and has started them writing songs around the issues they face. Peter Dawe runs a fine program around keyboards, acoustic and electric guitars, and bass. While we were there he also had use of a set of ukuleles and—frankly to the chagrin of some neighbouring classrooms—a full set of acoustic drums, which Singing For Love obtained and delivered to Jackie Hookimaw-Witt and Norbert Witt in support of their ongoing arts education endeavours in Attawapiskat.

School itself is one of the issues they face.
From their overall lack of enthusiasm it's apparent that replacing O Canada with a prayer in Cree is not enough to erase the students' perception of institutional oversight. Institutions, as we know, often develop systemic elements that result in behavioural looping… rules and responses emerge to address undesired behaviours in the short term but often ignore underlying causes, and so the behaviour is repeated. Singing For Love's first order of business is to establish a safe space for participants to be who they are, and a public high school presented us with unique challenges in this regard—full support, encouragement and cooperation of  principal Christine Kataquapit and her gracious staff notwithstanding.

We repeated our presentations to all three 90-minute classes every day and invited the kids to attend voluntarily in the evenings. All but one session were well attended. I'll tell you about that one in just a moment. By listening first and just being ourselves we started to see the walls come down.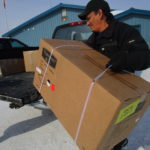 Being in Attawapiskat
We spoke with people. We heard that young people's problems include alcoholism and drug addiction, that of their parents or guardians and their own. We heard that kids as young as 6 or 7 get into whatever is on the table when the adults pass out. We saw the effects of Fetal alcohol spectrum disorders (FASDs). We heard of theft and break-ins within the community as a result of these multi-generational problems and poverty in general. We heard that kids face discrimination off the reserve, and often feel
depression and "feeling trapped" at home.

We heard that all these problems came with the salaries that came with the mining jobs that first collected the people from their camps on the land into a permanent town.We heard youth express deep resentment over their parent's addictions… and we heard from a parent that kids rarely know or appreciate the effect parents' pasts, particularly in residential schools, may affect them to this day.

The local hospital deals with overdoses and other forms of self harm. There are no doctors on staff; nurses speak to doctors via Skype, while patients remain in another room. To receive authentic, personal treatment a person must fly at least as far as Thunder Bay, perhaps to Ottawa. When that happens, the band pays the fare, in excess of a thousand dollars each way. Attawapiskat needs mental health and addiction facilities of its own. Attawapiskat needs doctors in its hospital. When, for example, "expert" psychological help is flown in, it's invariably temporary, impersonal and disconnected from the culture of the community.

Moreover, Attawapiskat needs these things to be driven by indigenous leaders, embracing indigenous traditions and values. We heard that only 30-50 years ago doors were unlocked and hot pots of coffee were left on while families slept and travellers stopped in quietly for a warm drink.
Being a teenager in Attawapiskat
In so many ways the youth we meet in Attawapiskat are like teenagers everywhere: they nestle in personal spaces behind hoodies and caps, you compete for attention with their cellphones, and they'll exchange knowing glances if you mispronounce their names or break an unknown code in a teacherly faux pas. Our first questions are met with blank stares and silence.

We play for them almost immediately, but I think we establish true credibility on day two when we begin with Rosy's original song, "Nobody Has the Right." They relate to the words and are drawn in by her powerful vocals. When we perform it yet again after school they clap and dance along. Soon we're getting delightful young people full of energy, hormones, hopes and dreams.
We learn one young man is working on a book. The theme of his book is "hope." The kids agree hope is a theme they can work into a song. We hand out chart paper and markers. Their ideas and sentences throw a bright light on their mixed feelings about hope. Classes next day either like the idea or are willing to go along with it. The raw lyrics material grows and so does the framework for the final piece. We'll disguise and rearrange the chords they've learned for Zombie, and adapt a rhythm that falls somewhere between Rumble and the pow wow drums we heard our first night. Our piano player masters the Rumble inspired 5th chords on the piano. A ukulele section is trained.
Music is essential; music alone is not enough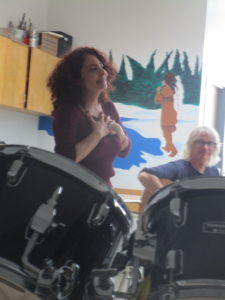 We can barely wait until the Thursday evening session to develop the song further, with hand drums, dance and all the instruments. The CBC is in town and they bring cameras and microphones. Where are the kids?

Daily distractions and drama are part of life in Attawapiskat, as anywhere. Some emotional news soon arrives, which we think might explain the suddenly low turnout. The next morning in school we learn there's also been a party. We're very happy when one of our most accomplished guitarists arrives. She's late but brings her rock-solid meter and determination to overcome the day's angst and frustrations through her guitar playing, a determination that's etched in her face. With two or three others who eventually trickle in we play Rumble and a local favourite, The Cranberries Zombie, and work on how to adapt the chords of the latter to the kids' song about the complexities of keeping hope alive in Attawapiskat.
§
[Part 2 to follow…]